Home
Contents
Index
Bottom
Chapter IV -- Thomas Boultbee, Rector Of Brailsford
---
CHAPTER V -- JOSEPH BOULTBEE OF COLEORTON AND HIS DESCENDANTS

TPB continues ...

The present chapter ought to be as least as long as any contained in this family history. Thomas the Rector of Brailsford, and Joseph his brother, stand at the head of two lines into which the family has been divided.
Circumstances, as well as the yearly increasing distance of relationship, have tended to a separation between the two lines which has only been broken of late by some casual meeting of one or other of these now distant cousins.

[This has been rather a difficult chapter to edit into a reasonably coherent form. It is partly due to the actually small amount of information able to be gathered by TPB although we cannot blame him for this. He had obviously done his best to keep up with very distant relations, but much of what he was able to record was very incomplete, mostly undated, and did not go very far onwards into lines of descent. Some additional information was added by JB (see here). Later research by several past family hands, more recent research, and help from living family members has added a tremendous amount towards completing the history of Joseph of Coleorton and his descendants to the present time. Most of these now live in Canada, and some in Western Australia, as will be later seen. Readers may find it helpful in following the sequence to bear in mind the names and order of the sons of Joseph of Baxterley (only son of Joseph of Coleorton) in the table of descent (see here). Ed.]

The fortunes of the two branches, on the whole, have not been dissimilar, though landed estate and consequent position have fallen to the lot of some members of the younger, beyond perhaps that which the elder branch has shared. It has been seen that no legacy was left to Joseph his son by the first Thomas Boultbee of Stordon, who bequeathed all his landed property first to his elder son Thomas and then to his grandson Thomas. Yet we infer that this did not imply dissatisfaction with Joseph, for his father requested him to act as overseer to his Will in order to aid his executor and grandson Thomas in carrying out its provisions. No doubt Joseph had received his portion, and had already at that date (1750), acquired considerable property. He was proportionally well qualified to guide his nephew. Joseph is known to have resided at the old Coleorton Hall, the ancient residence of the Beaumonts, which preceded their present mansion so well-known through the admiring poetry of Wordsworth. [The present mansion was begun in 1804. Ed.] He was also land agent to that family.

click below for an account of



TPB continues ...

He [i.e.Joseph Senior. Ed.] married Elizabeth Ward in 1735 at St. Peter's Derby. She died in 1771, and he followed her in 1789 at the great age of 88, not having attained however to the days of the years of his brother the Rector. Whether he was of similar stature seems unknown. It appears from Nichol's Leicestershire that the following monument was erected to him in Coleorton Church on the north side:- [Transcribed from an Editorial photograph rather than from Nichol. Ed.]


SPERO IN DEO
In a small Vault
under these Steps
lie the Remains
of JOSH BOULTBEE Esqr
many Years resident of this Place.
Who died upon the 25th day of Sepr
1789. in the 89th Year of his Age.
And of ELIZTH his Wife
who died in Augst 1771.
in the 75th Year of her Age.
This Monument
was erected in the Year 1794
by their Son JOSH BOULTBEE
In Remembrance
of Parents eminently distinguished
by their Christian & Moral Virtues
and by him most deservedly Honoured
and esteemed.


As far as is known he had a daughter Frances, named perhaps after that aunt of hers at Stordon who married John Boultbee, Vicar of Castle Donington. She was baptised May 13th, 1736 at Merivale near Atherstone. What became of her does not appear.

[We now know that she married, in 1770

on the 20th January at Coleorton

, the Reverend Francis Harris (1738 - 1819) who in his younger days had been Curate at Coleorton Church. He was the Vicar of Whitwick, about 2 miles from Coleorton, for fifty years. According to Patrick Boultbee the marriage was witnessed by Stordon Grange people. It looks as though contact between the 'Stordons' and 'Coleortons' did continue for a while but probably not after 1789 when old Joseph died & Stordon broke up. Ed.]


Joseph of Coleorton -- left one son called like himself and his grandfather of Griffydam, Joseph, who was baptised at Merivale on August 7th, 1737. He accumulated a large fortune and bequeathed a good estate to each of his sons.


Editorial Note:


As well as assisting his father in the management of the Beaumont estate, and succeeding to its stewardship in 1789 (see Joseph Of Coleorton) he was High Sheriff of Worcestershire. However, he lived at Baxterley Old Hall -- also moated like Stordon Grange -- a short distance from the village of Baxterley, some 15 miles southwest of Coleorton.

Boultbee's Farm

still shown on current

Ordnance Survey Map No. 140

, was probably the home farm of the estate and is nearby

the remains of

the Hall. The following fascinating letters cast further light on Joseph-of-Baxterley. The good offices of Matthew Boulton (1728 - 1809), the famous Birmingham engineer, are sought on behalf of an actress, Jane Wallis. The addressee, William Villers, seems to be connected either with the theatre at Birmingham, or with William McCready the Elder (1755 - 1829) the well-known actor-manager who is known to have managed the Birmingham Theatre amongst others. On receipt of Joseph's letter, Mr. Villers was obviously non-plussed, not to say agitated.
The circumstances in which Joseph thinks that Matthew Boulton might take a barrel of rice off his hands leave one unable even to hazard a guess at!
It is possible that the Boulton connection may be through him perhaps supplying the two Josephs, father and son, with colliery machinery. At that time, Boulton and his partner James Watt had co-operated in producing efficient steam-operated engines and pumps.

Watt had developed and improved the earlier Newcomen engine.


JOSEPH BOULTBEE OF BAXTERLEY
(1737 - 1806)
Letter to Mr. William Villers
Dear Sir
Knowing as I do ye willingness wth wch you always embark in ye cause of virtue, I shall not attempt an apology for giving you this trouble.
You will please to recollect my writing to you about a Year ago to solicit your interest in favor of McCready as Manager of yeBirmingm. Theatre -- My application came as the request ofMr. Wallis & his Amiable Daughter -- You no doubt know her by Character, if not personally -- I have ye satisfaction of being acknowledged her Friend, ever since an accidental introduction to her near two Years ago atBath, I shall say no more than, that if there are Angels upon Earth she is one.
Hearing I was in Town she came the other Morning wth. a Letter from Mr. Wallis, wch. had I not been here was to have been sent to me at Baxterley In this Letter after giving an Acct. of Mr. McCready's behaviour subsequentto his having obtain'd ye Birmm. Theatre, & his Conduct to Miss Wallis after he had engaged her and her Sister to go down to Birmm. It then proceeds thus

Mr. McCready this Winter offer'd her terms forgoing down next Season wch. in consequence of his former behaviour she thought herself bound to refuse. That She or I can ever speak tohim again is impossible, But it is a very melancholy & cutting reflection to me, to think, that by earnestly serving one who I suppos'd a Worthy Man, I have not only shut my children possibly out of the Birmm. Theatre, but the Manchester one also, for ye Managers there were so offended at losing Birmingm. thro' ye active zeal of my Friends for Mr. McC that it is next to certain they & I shall never form any engagements with each other.

It is a Duty my Dr Sir from me to Jane, & I think equally due from Me to ye proprietors of your Theatre(to whom I am in truth most grateful) to attempt what I am now about, Yet believe me when I say I would not injure McCready, if in my power, And that, after writing such a Letter as this, I wou'd not take ye Management if offer'd me tomorrow, were it ten times as lucrative as it is.My Notions respecting such points are I hope as sacred as you wish even Jane's to be; Yet tho' I wou'd not injure another, I would fairly strive to serve myself, And I wou'd now fain retrieve (in some degree at least)the foolish part I have acted towards my Children. One way remains and here My Dear Sir I wou'd solicit your kindness. If I recollect right you are not intimate wh. Mr. Boulton, but every body knows his Character(wch. I once heard Lady Loughbro' dwell upon with pleasure) Is it asking too much to request that you will pay him a Visit? Tell him how earnestly she wishes to perform in a place where, next to Bath & Bristol she certainly has more zealous friends than in any other part of ye Kingdom Tell him what our Noble-hearted Jane is (can even your partial heart saytoo much? Oh no, it is impossible) and then add that she hopes from Mr. Boulton's goodness the favour she solicits, provided it appears to him it may wth. the strictest propriety be granted - Her request then My Dear Sir is that the proprietors will condescend to accept her Services, three Nights of ye first Week of ye ensuing Season when she will perform the

Grecian Daughter

,

Violante

and the

Child of Nature

, and after the two latter

Roxalana

and

Chatharine

(the Shrew) - Should she make that impression her Friends wish,& prove an Object of great Attraction she will every succeeding Summers The proprietors shall choose, revisit them on

whatever terms

they please to name; provided that it is

their Act

& not the Will of their Manager. If Mr.Boulton generously takes up my Daughter all that I apprehend need be done is for him to inform the proprietors of my daughter's desire to pay this little tribute of Gratitude to them for ye kind interest they felt some time back for her Father, and if they wh. him consent to her coming, simply to inform ye Manager they have engaged Miss Wallis so & so.


Now My Dear Sir if you will take Ye earliest opportunity of laying this Business before Mr. Boulton if at home, and can favor me wth. an ansr. in the course of this Week, as my stay in Town will not exceed that period, I shall hold myself very much obliged to you indeed.
Be so good as to make my respectfull Compts to Mr. Boulton & say

I think myself particularly unfortunate in not being personally acquainted wth. him. But from what I know of his Character, I assure myself My fair Friend's request will be complied wth. if he & ye other proprietors see no impropriety atttending it.

Since writing ye above I have seen Miss W. who wishes me to add

in Addition to ye three nights for ye Benefit of ye House she wou'd think herself highly gratified indeed if the proprietors will permit her to add a fourth for ye benefit of ye General Hospital or any other Charity they shall point out.


I have now My Good Sir only to add, That the stiller this Business is managed the better, For if ye request is not granted, it will put her into a very unpleasant Situation wth. Mr. McCready here, who will if he hears of it most certainly say

She has made an attempt to get into ye Birmm. Theatre wthout Me, in wch. she has not been able to succeed.


Wth. respectfull Compts to Mrs. Villers I am Dr Sir &c &c

Jos: Boultbee
78 Basinghall Street Decr. 15th 95.

M. Boulton Esqr,
Soho
BIRMINGHAM
Mosely Decr 16. 1795.
Dear Sir
I this day receiv'd the enclosed which I confess surprised me not a little -- Will you be so good as to meet me at the Copper Committee on Friday and furnish me with an answer?

Yours very sincerely
Wm. Villers

Mathew Boulton Esq.r
Soho near
Birmingham.
Sir
By Letter from Cheltenham recd. yesterday Mr. Villers informs me you had empowered him to say you wou'd take a Barrel of Rice off my hands if I have not disposed of it. Not hearing any thing from Mr. Villers & dispairing of selling it in the Country I have return'd it to London at a loss of 12 shillings p[e]r lb. at least. If I had not return'd it I should have been very happy to have sent you a Bar1. I have the honur to be Sir

Your most obedt. Hble. Servt.

Jos: Boultbee

Baxterley 4th Oct. 95.

Matth. Boulton Esq.r.

TPB continues ...
This Joseph married Catherine Dabbs

[born in 1741, the daughter of Thomas and Elizabeth Dabbs. Ed.]

at Seckington, Warwickshire on 14th February, 1763 and died in 1806, having had by her a large family who may best be exhibited in a tabular arrangement.

[The table below has been much augmented from TPB's original. Ed.]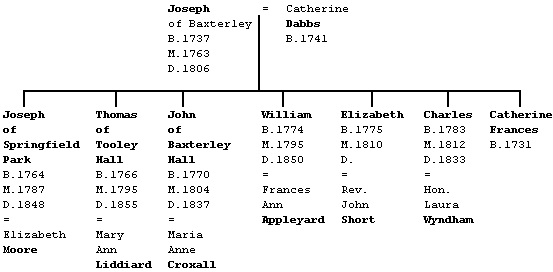 Joseph the eldest son married Elizabeth Moore

[in 1787, an Irish lady. Ed.]

and received from his father the estate of Springfield, which lies about 8 miles north-west ofWarwick and has since continued in the family. He had a large family.

[TPB included a table of their children, but as it is very sketchy with no dates and a missing daughter we have omitted it and proceed with our own list and details of Joseph and Elizabeth's children and their descendants to the present time. After this section, which is an extensive part of this chapter, we continue with the other children of Joseph of Baxterley. We have included biographical details given by TPB. Ed.]

The children of Joseph Boultbee of Springfield and Elizabeth Moore were:-


[Generations are denoted by type of symbol 1 (1st),I (2nd),i (3rd),A (4th) and a (5th). Ed.]




Joseph Moore born in 1789, married on August 6, 1815 Lady Elizabeth Margaret Ferrers Townshend, third daughter of George, 2nd Marquis of Townshend, she was born in 1784 and died in 1868 at Springfield Park. TPB says Joseph Moore was Colonel of the Warwickshire Militia which was called out for permanent service during the Crimean War. On the restoration of peace, riding at the head of his Regiment into Warwick, he was thrown from his horse near the West Gate and soon afterwards died,

[in 1860. Ed.]

thus closing the useful life of a country gentleman. Their children were:-

Charlotte Elizabeth born 1817, died unmarried in 1888.
Henrietta born 1818, died unmarried in 1902.
Elizabeth born 1820, married in 1844 James Roberts West. They had one son, Leonard Roberts, who married his first cousin, Eleanor Cécile Boultbee, in 1884.
Joseph Townshend born 1822, and died in 1839. TPB does not mention him and JB appears equally unaware.
Emily born 1825, married in 1858 Captain Robert Dymoke Vaughan, 90th Rifles.
Henry Townshend born 1827, who inherited Springfield. For him and his descendants to the present time see Additional Chapter XIV.
Selina Arabella born 1828, married in 1849, Captain Edmund Vernon Mackinnon, 5th Dragoon Guards.

Harriet Elizabeth born in 1790 and probably died in infancy. TPB did not mention her.
Hercules Moore born in 1791. TPB said he did not marry. We now know that he married Mary Barnes and had a daughter, Mary Ann born in 1827.
Richard Moore born in 1794. He entered Merton College, Oxford, took Holy Orders and eventually became Rector of Barnwell, near Oundle, Northamptonshire. He was also Private Chaplain to the Duke of Buccleuch. He married first, in 1816, Mary Pegge, only daughter of Sir Christopher Pegge, Regius Professor of Medicine, Oxford. There are memorial windows to Richard Moore and Mary in Barnwell Church. Their children were:-

Charlotte Anna born in 1821, and died unmarried in 1896. She looked after her uncle,Admiral Frederick Moore Boultbee in his retirement.
Richard Joseph Pegge born in 1823. TPB states that

he became head of the police force in the Counties of Selkirk and Roxburgh, Scotland.

He married first, in 1845, Frances Barker. Their children were:-

Frederick Richard born in 1848, who married in 1880 Evelyn Griffith.

[JB kept a newspaper cutting dated 15th October, 1904, reporting his death which says that he was a draughtsman with the Peninsular and Oriental Steam Navigation Co.

She died in 1936.

Ed.]

Rose Hamilton who married Douglas Brown in 1885.
Edith
Eva Georgina born in 1866 and died in 1884.

Richard Joseph Pegge married secondly Marion Fenton in Bath sometime during 1879. She was 81 when she died in 1913. He died in 1905.

Mary Elizabeth married in 1846 the Reverend Whall. She died in 1891.
Helena Maria married F. Tibbetts.
Lucy Margaret born in 1828, married in 1883 J.Wilson.
Jane died unmarried.
Georgina Catherine married in 1855 Richard Drummond Ash.

Richard Moore married secondly in 1848, in Bath, his cousin Rosalind Boultbee, daughter of his Uncle William. For their subsequent history see Additional Chapter X. For their photos, see below.


| | | |
| --- | --- | --- |
| | | |

Charlotte Anna born in 1795, married in 1815 Colonel Thomas Dundas.
Helena Maria born in 1796, married in 1822 the Reverend William Thomas Bree.
Edward Moore was born in 1797.

[TPB notes only his marriage, position in the Police, and four sons. In fact, there were seven children, five sons, and two daughters. We give below the details of his interesting career. These have been compiled from recent research in the India Office Library, London, from family documents, and as regards his Police service from information supplied from the records of the Bedfordshire Police Force. We are indebted to Susan Boultbee for the obtaining of the latter details. We follow the above with the list of his children and grandchildren, which includes many notes on them preserved by JB's son Walter Ernest, and his grandson Walter Richard Pownall, and Edward Moore's son, Frederick Croxall.Ed.]

Click below for
Captain Edward Moore Boultbee (1797 - 1889)
(written by the Editors)

| | |
| --- | --- |
| | |
| Richard Frederick (Standing) Edward | Back of original Photo |


Edward Moore and Beatrice Jane's children were:-

Edward Joseph born in 1840, did not marry. He was a Lieutenant in the 15th Regiment and was drowned in an accident at Gibraltar in 1864. He is described as being a good artist who occasionally contributed to 'Punch' under a pseudonym.
John Foster was born in 1841. He joined the Navy and in 1854 was a midshipman with the Baltic Fleet during its operations in that area against the Russians in the Crimean War. He left the Navy in 1861. He later went to Australia where he married Marian D. Campbell but they separated and he returned home. In 1879 he went to Canada, with his brother Frederick Croxall and was briefly a master at Bishop's College, Lennoxville, Quebec. His first wife having died in Belgium he married secondly, in 1887, Mary Granville Curtis of Paris, Ontario where he died in 1920. There were no children by either marriage.
St. John born in 1843. He was M.A. of St. John's College, Cambridge. After tutoring and Army coaching posts, he became a schoolmaster in Tasmania. In 1875 he married Ada Fanny Barber

(born 1853 and died 1933)

. They had three sons of whom the two younger were Army officers and both died of enteric fever while serving in South Africa during the second Boer War. St. John died in 1900. The sons were:-


Arthur Watkin St. John born in 1876. He went out to Canada and became a rancher in Alberta. He married firstly, in 1906, Beatrice Alice Jowett in Calgary. She died in 1907. They had one daughter, Dorothy Grace who was born in 1907 and died in 1908. He married secondly Mabel Ellen Springer of Vancouver, British Columbia in 1912. From correspondence between him and Jack Gardner Boultbee of Canada he was still alive in 1940 and living in France, and with some evidence that he had been an Army officer in the 1914-18 War.
Archibald St. John was born in 1878 and died in 1905 at Bloemfontein, South Africa, while serving in the 81st Battery, Royal Field Artillery. He married Winifred Brand. There were no children.
Philip Duncan born in 1879. He did not marry and died in 1901 at Aliwal North, South Africa, while serving in the

22nd

Imperial Yeomanry.

Sydney Frederick was born in 1845.
Sydney Beatrice was born in 1847 and died in 1848.
Sydney Beatrice was born in 1849 and died in 1855.
Frederick Croxall was born in 1851. He was educated at Bedford Grammar School and Corpus Christi College, Cambridge, where he took a B.A. in 1873. In 1875 his father's first cousin, Washington Boultbee, visited England [see Additional Chapter X] and Frederick Croxall travelled back with him to Canada via New York on the

S.S. Republic

. During the voyage, however, Washington died and was buried at sea. Frederick Croxall went on to the Boultbee family home, Thornvale, Ancaster, Ontario, and then took a teaching post for a year at a school in Hamilton, Ontario, before returning home in the summer of 1876. The following year he was back in Canada and left many stories of his adventures in a later memoir. Again he returned home in 1877 and took a post as Second Master at Lichfield Grammar School. In 1878 he was in Canada teaching at Bishop's College, Lennoxville, Quebec, but returned in 1879 to collect his brother John Foster (see above). Their visit to Thornvale was still remembered as late as 1924 by Dr. Farmer, author of

A History of the Parish of St. John's Church, Ancaster

. In 1880 Frederick Croxall met and married Henrietta Eleanor Molson. She was born in 1862, and belonged to the still well-known Molson brewery family of Montreal. They were married in the chapel of Bishop's College and returned to England permanently in the same year. In January 1881, he was appointed Private Secretary and Tutor to the sons of Earl Percy, later Duke of Northumberland, for a year, and then started his own private school. In 1889, he decided to take Holy Orders, and studied at Lichfield Theological College, being ordained at Ely in 1891. He was curate at Colne, Huntingdonshire, 1890 - 1898, Vicar of Melchbourne, Bedfordshire, 1898 - 1901, and Rector of Hargrave, Kimbolton, Huntingdonshire thereafter. In 1908 he went to Canada for the funeral of his son, Randall Croxall. He went to Western Canada looking up cousins and old friends, and also made arrangements for buying out his son Edward Frederick from the Mounted Police. While in Liverpool, from where his ship sailed, he met his distant cousin Charles Royston Boultbee (for whom see Additional Chapter XVI) who was on an otherwise unrecorded visit to England from Canada. Frederick Croxall died in 1925 and his wife in 1939 in India. For their children and descendants see Additional Chapter XIII.

Frederick Moore was born in 1798 and entered the Navy as a First Class Volunteer, 17th March, 1811 on board the Conquestador, 74 guns, Captain Lord William Stuart, attached to the Flushing and Channel Fleet. From November, 1814 until 1820 he served as Midshipman and Master's Mate in the Favorite, 26, Captains the Hon. James Ashley Maude and Hercules Robinson, on the East India, St. Helena, South American and Newfoundland Stations. While next employed in Egeria, 26, Captain John Toup Nicholas, he was promoted 13 December, 1821 to a Lieutenancy in the Grasshopper, 18, Captain David Buchan, also on the same stations. On 24 December, 1825, he joined the North Star, 26, Captain Septimus Arabin. During this service, in suppression of the slave trade, in the course of 1827 we find him distinguishing himself, while in charge of the ship's pinnace, at the capture of a Spanish brig pierced for 18 guns. He was then promoted to Commander 11th February, 1829 and placed on half-pay. On 24th May, 1838, he was appointed to command the Jaseur, sloop, on the Mediterranean Station. He was promoted to Captain, 23rd December, 1841. On relinquishing command in 1841 he was again placed on half-pay, and not further employed. He was promoted to Rear-Admiral on the Reserved List 12th April, 1862, to Vice-Admiral 24th May, 1867, and Admiral 30th July, 1875.

[The details of Frederick Moore's active service career as set down in the History by TPB were taken from O'Byrne's Naval Biographical Dictionary. William Richard O'Byrne (1823 - 1896) though not himself connected with the Navy, devoted six years to producing his Dictionary, the first edition of which appeared in 1849 -- the present 1990 edition is a reprint. In 1861 he began a new and enlarged edition which was issued in monthly parts, still in alphabetical order of names of officers, but he only took them as far as 'G'. These parts are now very scarce and hard to come by.
In those days promotion advancement for Army and Navy officers could sometimes come from family money, influence or patronage. Thirty-one years after Matthew Boulton's good offices were invoked on behalf of Joseph of Baxterley's actress protégée (see here), help was sought for Frederick Moore from his son Matthew Robinson Boulton in the following letters of 1826. We do not know who Thomas Levett was, and would like to know more of Mrs. Tennant. In 1826 Frederick Moore was 28, had been serving in H.M.S. North Star for a year, and had been a Lieutenant since 1821. He may not actually have been aware of his friends' actions, but it may be that Boulton's influence and connections in high places may have assisted in his promotion to Commander in 1829. We feel, however, that his part in the capture of the Spanish ship had not been forgotten, even though this promotion was followed by relegation to half-pay, the fate of many naval officers, not excepting Lord Nelson for a period, when there were often too many of them for the available command vacancies on ships. Ed.]




Jan. 25. 1826.


My Dear Sir,
Mrs.Tennant of Aston, is very anxious to procure a Letter of introduction, for a young Friend of hers, a Mr.Boultbee, Lieutenant of H.M.S. North Star, to Captain Bullen of his M.S.Maidstone, Commodore on the African Station. I trust therefore you will not think me intrusive in requesting that you will have the goodness to ascertain whether Admiral Coffin is sufficiently acquainted with Captain Bullen, as to justify his taking the liberty of supplying the said Lieutenant with such introductory Letter. Captain Pinker has been applied to, but being unknown to Capt. Bullen, is unable to promote the wishes of Mrs. Tennant, on this occasion.
I have many apologies to offer f[or] giving you so much trouble; [do] not attribute it to any officious interference on my part: Could I refuse to comply with the solicitations of mine Hostess of little Aston?
Believe me,
my dear Sir
very faithfully yours
Thomas Levett.
(addressed)
M.R.Boulton Esq
Soho
Birmingham.
My dear Sir,
I beg you will accept my very best thanks for the friendly & efficient manner in which you have promoted the object we had in view, with regard to the professional welfare of the young Sailor.
Should you see or have occasion to write to Sir I. Coffin, I shall be much obliged to you to express to him, in the strongest manner, how sensibly we feel his kindness.
Believe me,
my dear Sir
very sincerely yours
Thomas Levett.
Packington
Feb. 8/26.
(addressed)
M.R.Boulton Esq
Soho
Birmingham.

Click below for
Admiral Frederick Moore Boultbee (1798 -1876)
(written by the Editors)

[Having dealt with Joseph of Springfield and the complicated sequence of his children and descendants we return to his brothers and sisters. Ed.]

Thomas the second son of Joseph of Baxterley, born in 1766

and died in 1855

, received, according to TPB,

the estate of Tooley Hall between Hinckley and Leicester. Tooley Hall is engraved in Nichol's "Leicestershire"

. Thomas married Mary Ann Liddiard

in 1795

. They had two children, neither of whom married --Mary Ann born in 1795

and died in 1873

, and Thomas born in 1796,

died in 1883

. TPB wrote --

It is understood that the estate was impaired if not lost by racing.

John born in 1770, inherited the Baxterley estate. He married in 1804 Maria Anne Croxall, daughter of Edward Croxall of Shustoke, Warwickshire, and died in 1837. TPB had only been able to find out about five of their children and only their names whereas in fact there were nine. Their children were:-


Maria Catherine born in 1805. Her second name must be after her grandmother Catherine (née Dabbs)
Sydney born in 1806 who, we surmise, died in infancy.
John born in 1807. He was educated at the Royal Military College, Sandhurst. In 1842 he married Williama Joan Lewes

born 1815 and died in 1883

, only daughter of William Lewes, of Llysnewydd, Carmarthenshire. TPB says that John sold Baxterley and went to live at Plas Giverant, Cardiganshire, where he became a Justice of the Peace and Deputy Lord Lieutenant. He finally lived at Leamington and died there in 1880. Their children were:-


An unnamed son who was born and died in 1843.
John Edward Lewes born in 1845 and died in 1885.
A daughter who was apparently known as Amy, and is so recorded by TPB, but who was actually baptised Williama Mary Sydney Lewes born in 1846 and died in 1879. Neither of the surviving children married.

Edward Francis born in 1809.

Edward Francis Boultbee (1809 - 1897)
(Written by the Editors)

He was educated at Repton School, which he entered in 1821. He entered the East India Company's Mercantile Marine Service on 27th February, 1827, presumably as a Midshipman as was customary. He served for seven years and was discharged on 27th April, 1834, probably at the end of a long voyage to the East, the ship not returning home until after the Service ceased officially in 1833. In 1855 he was commissioned a Captain in the 6th Yorkshire Militia Regiment, and promoted Major in 1872. He married, in 1866, Annette Erlam, a widow. There were no children.

Sydney born in 1810.
Beatrice Jane born in 1811, and married in 1839 her first cousin Captain Edward Moore Boultbee

and she died in 1893

.
Robert born and died in 1815.
Robert born in 1816.
Louisa born in 1817.

William born in 1774. TPB -- The line of William, the 4th son of Joseph and Catherine of Baxterley, may be known from the following table which is perhaps not quite complete.

[In the circumstances, considering that William and his family had long been settled in Canada, TPB's own table was a good effort though we have not reproduced it. He had picked up all but one of William's children and a few of the numerous grandchildren but

there are hardly any dates. JB added in more which had been sent to him from Canada in 1890 by the Reverend Arthur Boultbee, a grandson of William, but even that only went up to the 1870's. The full details of William and his children and descendants to the present time will be found in

Additional Chapter X.

What TPB wrote about William here follows. Ed.]


The above William became a very prominent politician in Birmingham during the excitement of the Reform agitation at the beginning of the reign of William IV. He was associated with Attwood and the other leaders on the Reform side of that movement. He afterwards went out to Canada and was buried at Ancaster.
Elizabeth born in 1775, married in 1810 the Reverend John Short.
Charles born in 1783, took Holy Orders and eventually became Rector of Baxterley according to TPB. He married

in 1812

the Hon. Laura Wyndham, sister and sole heiress of the 4th and last Earl of Egremont, and he was buried at Baxterly on Sept 13, 1833. They had one daughter, Julia Frances Laura. She married in 1835 the Hon. Francis Scott, M.P., born in 1806, the third son of the 6th Lord Polwarth. She died in 1868 and her husband in 1884.
Catherine Frances was born in 1786, and died unmarried in 1822.

TPB ended this chapter as follows:-

This is but a meagre sketch of so important a branch of the family but it may serve to trace the degree of relationship existing between the widely scattered individuals who bear the name. To illustrate this further the following parallel lines of descent may be added.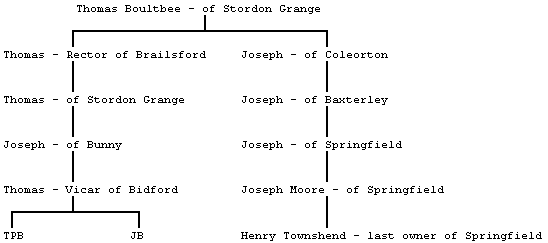 ---
Chapter VI -- The Last Thomas Boultbee of Stordon Grange
Home
Contents
Index
Top
©