Home
Contents
Index
Bottom
Chapter VII -- Section II -- The Sons Of Thomas and Jane Boultbee
---
CHAPTER VII -- Section III --THE CHILDREN OF JOSEPH AND SARAH ELIZABETH BOULTBEE

In this family the death of the three eldest children Thomas, Joseph Thomas and Charles Travis in their infancy interfered with the usual family custom of the first and second sons bearing the names of Thomas and Joseph. The sons subsequently so named came late in succession, and the eldest surviving son was Edwin. He was born in 1790 and emigrated to Tasmania in 1823, where he married Mary Allen in 1825.
He died at Rock House, St. Paul's Plains, Tasmania, 1868, and she followed him July 20, 1876.

Click below for
Edwin Boultbee (1790 - 1868)
(Written by the Editors)

TPB continues ...
Joseph Bage Boultbee (second surviving son of Joseph and Sarah Elizabeth Boultbee) was born in 1791. He entered the Navy as a Midshipman on board the Hind, 28 guns, in the year 1805. His earliest professional recollections were those of lying in Plymouth Harbour under orders to join the Fleet under Nelson, when the news of Trafalgar arrived. The frenzy of excitement which the tidings caused among the English people he was accustomed to speak of as something beyond description. The accounts of the battered hulls of the ships which had been captured, and the scarcely more sea-worthy condition of the victorious ships as they came into Plymouth for repair, used to be given with the graphic simplicity of an old sailor. He thus missed by two or three weeks only being present at one of the greatest of naval victories, but he was thenceforward engaged in the ceaseless enterprises with which the British Fleet kept guard in the Mediterranean, or harassed the coast of the enemy during the Peninsular War. Those who are versed in the details of naval history as given by such writers as James, will know that the following recital of the service of Joseph Bage Boultbee from O'Byrne's Naval Biographical Dictionary, comprises some of the most gallant and striking actions of that war.

Editorial Note:

The following details are taken from W.R.O'Byrne's updated version of his Dictionary, commencing in 1861 in monthly parts, (see also page ). Fortunately for us he had included Joseph Bage and what he wrote about him then is augmented from the original entry.
This Officer entered the Navy 5 August, 1805 as a Midshipman on board the Hind, 28 [guns], Capt Wm. Fane, stationed in the Mediterranean, where in 1806, while escorting a convoy of victuallers from off Cadiz to Gibraltar, that frigate was attacked by a flotilla of gunboats which, however, she succeeded in defeating. She was subsequently chased in the Archipelago by a Turkish Fleet, which in its turn was pursued by the Russians who took three sail out of eleven and dispersed the remainder. (The reference in the last sentence must be to one of isolated naval actions in the islands of the eastern Mediterranean which took place around 1808. Ed.) After an attachment of more than twelve months with Captain Fane to the Cambrian, 40, during which period he appears to have been actively employed in co-operation with the patriots on the north coast of Spain, Mr. Boultbee removed in August 1809, to Kent, 74, Captain Thomas Rogers. On 13 December, 1810 he took part in a gallant but unfortunate attack made by the boats of the squadron under Captain Fane upon the enemy's shipping in the Mole of Palamos in the north of Catalonia, where out of 600 Seamen and Marines who were landed, a full third were killed, wounded or taken prisoner. The boat in which Mr. Boultbee effected his escape was riddled with shot.
Having passed his examination in November, 1811, and been attached for a short time to the Hibernia, 120, flagship of Sir Sidney Smith, he was confirmed in a Lieutenancy, 25 January, 1813, in the Sheerwater, 10, Captains Wm. Robert Smith and John Townsend Coffin, in the boats of which vessel, acting in conjunction with those of the Volontaire and Undaunted we find him employed in an attempt to capture a convoy protected by a heavy battery and troops in the Bay of Marseilles, whence two of the vessels were brought out, the remainder taking the ground. This affair took place 7 May, 1813. Five days previously Mr. Boultbee had been active in securing eleven vessels cut out from the Port of Montjean where the batteries were blown up and the guns thrown over the cliffs. The Sheerwater being paid off in October, 1814. His last appointments were 1 September, 1837 and 1 July, 1838 to the Temeraire, 104, and Ocean, 80, successive guard ships at Sheerness. He was placed on halfpay in October 1841, on the reserve list in July 1851, and on the list of retired Commanders 13 October, 1855.

TPB Continues ...
Commander J.B.Boultbee had the proverbial power of narration which is attributed to the older race of naval men. No one who heard him narrate the disastrous story of the Palamos landing can forget it. The dispersion of the force sent ashore, their fatal loitering without definite aim or purpose, until a large French force of infantry and cavalry came upon them. The attempt to make a stand with such men as could be got together, the rush to boats which lay barely afloat, the lining of the walls and houses with French infantry who fired into boats while fugitives crowded into them, the arrival at last alongside the Kent of the boat full of dead and wounded, heaped upon each other, as speedily as the two or three oars remaining serviceable could bring them. This terrible narrative remains in naval history, and was often told by Commander Boultbee as a recollection but of yesterday.
He married 7 May, 1822

[Mary Oakes, a Welsh lady. Ed.]

, and had one daughter, Jane, who married Charles Wilcox of Rosevine, near Gerrans, Cornwall. He married secondly a Jersey lady. He died October 19, 1865 and is buried at Bidford.

[Joseph Bage must have been a frequent visitor at Bidford in his retirement. It would appear that after the Sheerwater was paid off -- at Portsmouth in 1814, he went on halfpay for many years although O'Byrne does not actually say so. His name appears in Navy Lists, as a Lieutenant, for the immediately following years, but not with a code number beside it indicating attachment to a ship. The crucial promotion from a Lieutenancy to the command of a ship was often a heartbreaking business and English social history of the period has many sad stories of otherwise brave and deserving officers on the beach until old age having never been given a command, and often in penurious circumstances with families to support. However, perhaps Joseph Bage was pleased enough, at the age of 46, to be of service again in 1837, even if only on guard ships protecting Sheerness Dockyard, Kent, when the likelihood of attack from any quarter was very remote.
We know that in 1819 his brother John returned from Barbados and went to live with their brother Edwin in Anglesey until 1821, when after the death there of their father Joseph, John went, with his mother, to live with Joseph Bage at Richmond, Caernarvonshire. At some time, Joseph Bage also lived at The Garth, near Dolgelly, (now spelt Dolgellau) Merionethshire, an obviously old and very picturesque cottage of which a pencil drawing has survived. Ed.]




THE GARTH, NEAR DOLGELLY, NORTH WALES

[Joseph Bage, in fact, did not become a Captain in the Navy.
This was often a courtesy rank given to Commanders when addressing them. Ed.]


COMMANDER JOSEPH BAGE BOULTBEE R.N.
(1791 - 1865)
Thomas the third surviving son of this family was destined by his father for the life of a merchant at Liverpool, where he married Eliza the third daughter of William Pownall who acquired a fair fortune in mercantile pursuits. Having a distaste for this employment Thomas took Holy Orders in 1824 and after serving in several curacies was presented by Sir Grey Skipwith to the adjacent Vicarages of Priors Salford and Bidford, lying on the river Avon half way between Stratford-on-Avon and Evesham. He was warmly attached to the Evangelical section of the Church of England in days when considerable obloquy attached to it, and distinguished himself by the support of Societies, by active parochial work, building parochial schools and enlarging his Parish Church at a time when all such movements were in their infancy and encountered much opposition. On February 24, 1858, he lost his wife who lies in the Churchyard of Bidford at the west end. Early in the same year he resigned the living of Salford Priors which up to this time had been his residence, and retired to Bidford Vicarage where he resided until March 25, 1877, when increasing infirmities led to this resignation of this benefice also. [We are certain that what follows about the last years of Thomas, was actually written by JB. Ed.]
He then went to live with his son-in-law the Reverend George Herbert [at King's Pyon Rectory, Herefordshire. Ed.], occasionally helping him in his duty. He was very regular in his habits of life and was able to take considerable exercise every day accompanied by his favourite Pomeranian terrier Floss. Unfortunately his love of exercise, humanly speaking, led to his final illness. He was jumping a ditch and missed his footing and injured his ankle, so that for a few weeks he was confined to his couch or bed. This enforced deprivation of exercise so interfered with his general health that it led on to complications in his system, and eventually bronchitis carried him off. His children were summoned and had the sad gratification of being with him at the last. He died Good Friday, at ten minutes past 12 that morning, March 23, 1883 and was buried by the side of his wife on March 29th. The villagers of Bidford and many of those of Salford showed the intense feeling of respect which they had for their old Vicar and his 49 years of work among them by attending the sad funeral service at Bidford Church, closing their shops and drawing their blinds, and the ringers by ringing a muffled peal.
It was a sad day for his children but the kindness of the villagers, and their heartfelt expressions of sympathy to each member of the family, who passed nearly all their youthful days in that locality was very soothing and affecting, while it can never be forgotten.
Click below for
Reverend Thomas Boultbee (1793 - 1883)
(Written by the Editors)
TPB continues ...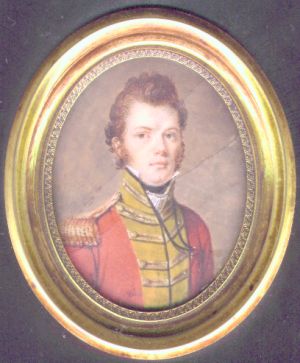 GEORGE BOULTBEE

1795 - 1830

George the fourth surviving son of Joseph and Sarah Elizabeth Boultbee received a commission in the 41st Foot in 1815. His regiment landed in Belgium almost in time to hear the guns of Waterloo, but was not present at that famous battle. It formed the part of 2the army of occupation in France after that great victory and was afterwards ordered to India. There it took part in the First Burmese War. George Boultbee's constitution was much injured in the malarious epidemic under which that expedition suffered so severely, and he died at Madras in South India in 1830. He was a good officer and Adjutant to the regiment, but promotion was slow, and the means of purchasing it not forthcoming. He had not attained his Captaincy at the time of his death.

[There is an excellent miniature of George in regimentals and auburn sidewhiskers which came to JB and is now in the possession of Thomas Holbech Boultbee. Ed.]




[Charles the eighth child was born in 1796 and died in 1797. Ed.]


John the fifth surviving son, emigrated after a life which gave little satisfaction to his relatives. He lived chiefly in New Zealand and Ceylon; he died in the latter island 1854.

Click below for
John Boultbee (1799 - 1854)
(Written by the Editors)

TPB continues ...

This completes the generation of which Joseph and Sarah Elizabeth Boultbee were the parents.

Editorial Note:

The original history by TPB in effect ends with John who died in Ceylon. It seems likely that he wrote down most of it during, or soon after, the period in the very early 1860's when he was most actively engaged in research -- visiting places in Leicestershire associated with the early family, checking through church registers, looking for and recording family monuments, and also gathering information from family members with whom he was in regular communication, or, as opportunity infrequently offered, from those more distantly related.

After he had become Principal of the newly instituted London College of Divinity in 1863, thereafter he would probably not have had much spare time for concentrated further research. However, the History as copied by JB shows that after 1863 TPB did obtain some more information and incorporated it in his manuscript. The latest date, we believe is 1877.

After his death in 1884 the original History then passed to JB, the surviving brother. Unfortunately we do not know what happened to it or why JB decided to make his own copy perhaps he was actually faced with loose papers. The JB copy plainly shows that he added more information and comments to the narrative at various times. These insertions

he usually initialled or it is otherwise certain that it was he who had made them. His copy is also interspersed with newspaper cuttings of family deaths and funerals, loose memoranda, pencil notes and information relating to both living and past family, which shows that he did then have an interest in the family as a whole. In a pencil note he confessed that this was not so in his younger days.

We do not know when JB began actually to write down his continuation. The cares of bringing up his family of eleven children, the tragedies of the deaths of his first two wives and his clerical duties would not have left him with much leisure for research for several years. It would appear, however, from his memoir of his own life -- see below-- that he was writing it down in the late 1880's and early 1890's -- his own copy is dated 1889 with later additions at intervals.

His continuation covers the children of Thomas, the Vicar of Bidford, including, of course, TPB and himself with long and interesting memoirs, and TPB's children. He then listed his own children and grandchildren but with basic details only. Much more information about them, to the present day, will be found in

Additional Chapter IX

.

His final pencil note says --

I am getting too old to work up family lore any more and to my son H.E.B.

(the Rev. Hugh Edmund Boultbee, 1868 - 1941)

I commend the poor effort of an old man

-- he is far too modest. The handover of his copy to Hugh Edmund must have been in, or a little after, the birth year of his youngest grandchild.

Notes on his own brothers and sisters and his own children were added to the JB copy by Hugh Edmund. At sometime he lent it to his older brother the Reverend Henry Travis Boultbee (1856 - 1940) who in his final retirement at Cheltenham also interested himself in family history and he produced a typescript most fortunately preserved. This not only shows that he must have corresponded with Canadian, Australian, and Tasmanian cousins and obtained information from them but it also includes some personal anecdotes and details. These we have incorporated in their appropriate places -- for example, the story of the attempted attack by natives on Edwin Boultbee's house in Tasmania.

The JB copy remained in the family of Hugh Edmund until the death of his eldest daughter in 1991. Through the kindness of his grandson, Dr. Peter James Boultbee, it was lent to the Editors for use in the preparation of this Edition. They have also used a copy made by JB's second son, Walter Ernest, at some date before 1897, the year of the latter's death. This is basically a copy of what TPB wrote, and does not include the additional details about Robert Boultbee's survival until 1835 and his second marriage, which are in the JB copy. However, it has some most valuable items of information not included in the JB copy -- but for a newspaper cutting of Captain Edward Moore Boultbee's funeral we are unlikely to have known of his shipwreck while in the East India Company's service, which led to recent research into the details of this period of his life. Also here are found the three photographs of

Stordon Grange

and photographs of the Vicar of Bidford in old age, Commander Joseph Bage Boultbee, R.N., and a splendid one of TPB which is reproduced as our frontispiece. Other copies of the History are known to have been, or are, in the family but to the best of Editorial knowledge they are basically similar to TPB's original.

We hope our readers will bear with this long interruption to the general narrative as we have thought it important at this point to record the details of how the History was carried on.
---
Part Two -- James Boultbee's Continuation
Home
Contents
Index
Top
©