Home
Contents
Index
Bottom
Chapter VII -- Section I -- The Daughters Of Thomas and Jane Boultbee
---
CHAPTER VII -- Section II -- THE SONS OF THOMAS AND JANE BOULTBEE
Click The Son You Want Thomas, John , Joseph , William, Robert or just read on:-
---

Turning now to the sons of Thomas and Jane Boultbee of Stordon Grange, the twins who divide between them the honours of seniority were Thomas and John. Some have said that John was the elder, but the name would rather point to Thomas as the senior -- looking to the habit of several generations -- and the testimony known to the writer

[JB. Ed.]

is conclusive as to the truth of the latter statement.

[We have, while not altering what TPB actually wrote about the painter twins, Thomas and John, changed the sequence of his notes so that all his rather scattered comments on the artistic aspects of both their lives are brought together and come first. These are now followed and supplemented by our own notes which include a great deal of additional information. Ed.]

TPB continues ...
They must have manifested in some way special talent for painting otherwise the profession of a painter would scarcely have been thought of in a country house a century since. They became pupils of Sir Joshua Reynolds, and attained considerable skill. John devoted himself to animal painting and Thomas to portraits.
Thomas the elder of the twin brothers developed considerable ability as a portrait painter. It does not appear whether he ever practised that art as a profession, if he did he early abandoned it.
He left behind him many portraits of his relations very varying in skill and finish, though some of them possess considerable merit.
The works of John still remain in many country houses.
He was also employed by George III to paint some of his favourite animals, and there is a collection of his works at Cumberland Lodge or engravings from them at Windsor Castle. Indeed the King assigned him to a house in Windsor Park, that his services as an artist might be more available, but failing health or energy interrupted the arrangements.
Lord Mount Edgecombe was one of his patrons, and he was a frequent guest there. Some engravings from his works are in possession of the family of the late Reverend Richard Moore Boultbee who died at Bath in 1874. He is said to have had a great ability but to have failed in perseverance.
The only paintings of his known to the writer [JB. Ed.] are those of a favourite horse of his brother Joseph, and ofGulliver among the Houhnyms . They have in them the elements of good pictures but have been left unfinished, the characteristic but serious defect of an otherwise good artist. One of his most striking is said to be Richard III at Bosworth but it is not known in whose hands it now is.

Click below for

(written by the Editors)

[We continue with TPB's notes about the brothers Thomas and John in relation to their marriages, children and descendants as known to him, adding to them to include later information. We have reversed TPB's order so that Thomas comes first. Ed.]
Thomas [born in 1753. Ed.] lived at Chetwynd House, Newport, Shropshire. [He married, in 1792, Mary Kempson who had married, respectively, Thomas' own sisters Elizabeth and Mary. Ed.]

The following is the table of his descendants: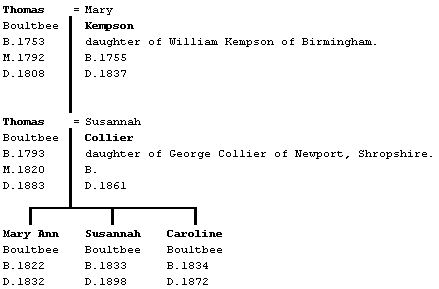 The second Thomas of this line lives with his surviving daughter

[Susannah. Ed.]

at Great Chatwell near Newport, Shropshire. It follows from the above that the descendants of John, the twin brother, are the representatives in the male line of the senior branch of the family.


[JB preserved a long newspaper cutting describing Susannah's funeral in 1898. It was attended by a Mr. Kempson and the Reverend Herbert -- both must have been cousins -- but apparently no Boultbees. JB's grandson Walter Richard Pownall recorded there was a

handsome screen, and rood above, to her in Blymhill Church

, though she was buried at Moreton. Both are near Great Chatwell. Susannah bequeathed some of her grandfather's paintings to the Kempson family. Ed.]


John Boultbee married at Bursted, Essex, Ann Caulton of Derby on December 11, 1784. He was a very handsome man with a nose inclining to the Roman form, of distinguished appearance and manners which his portrait in the possession of his descendants shows.
He died November 23, 1812, and was buried in St. James' Churchyard, Liverpool. His widow died at Worlaby, Lincolnshire, October 25, 1837 and was buried at South Ormesby.

[JB then includes extracts from a Family Bible which must have been in use at Stordon Grange. In Jane Boultbee's hand it listed her and Thomas' children and their birth dates. John added notes about his parents and their marriage and goes on --

The gift of my mother Jane Boultbee whose maiden name was Bage to me John Boultbee

. He then wrote down his own descent going back to the first Thomas of Stordon Grange and then

Eldest branch of the family who are descended from Nicolas de Boultbee, Baron Tindale of Blenkinsop in the County of Northumberland. The above-mentioned memorandum dated 8th April, 1789 being the day of my receiving this book from which time I give it to the R[igh]t heir of this family to descend in a manner of Paternal Estate -- John Boultbee

. This was followed by a list of his own children. Interestingly, here is an early reference to the supposed origin of the family. JB notes also that this Bible was later owned by Miss Holland, one of the three daughters of Edward and Charlotte Holland (née Boultbee) of Worlaby, Lincolnshire. It would appear that after John's death his widow Ann went to live with Charlotte, her youngest daughter, and took the Bible with her. How TPB or JB tracked it down, we cannot now tell, and must assume that, contrary to John's wish, it remained with the Holland family.

We continue with John's children and descendants but not in the form of the list TPB made, though we have included all the information he gave and used his wording as far as it went. So much additional information down to the present day is now available that the following format is necessary. Ed.]

John and Ann's children were:-
[Generations are denoted by type of symbol 1 (1st),I (2nd),i (3rd),A (4th) and a (5th). Ed.]
John born at Derby on October 1, 1785. He married on October 31, 1808, Ann, the only daughter of William Hall of Cotes near Loughborough. He died July 20, 1843 and his widow died at Cheltenham in 1853.
Their children were:-

Anne Jane born at Peterborough September 10, 1809. She married September 27, 1827 Dr. Bute Stewart of Wisbech.She died at Wisbech February 8, 1833 leaving three children.
Emma born August 11, 1811 at Peterborough. She died July 28, 1829 and was buried at Swapstone.
Harriet born March 25, 1813 at Peterborough. She married March 28, 1840 John Mair, son of the Reverend W. Mair, at the Parish Church, Kensington, London.
John Alfred born April 12, 1815 at Peterborough. He died January 30, 1838 at Colombo, Ceylon.

[Surely he must at least have heard of, if not met there, his cousin

Rambler John

.

Ed.]


It appears therefore that there are no descendants of this John Boultbee in the male line.

Thomas Joseph born at Loughborough January 10, 1787. He did not marry.
William Edward born at Loughborough October 25, 1789 and died in 1792.
Mary Ann Jane born at Loughborough December 6, 1790. She married James Renton, a Naval officer, and died in 1862.
Edward born October 25, 1792, was a merchant in Liverpool. He married Clementina Barton of that city

[in 1817. Her full names were Clementina Charlotte Augusta. Ed.]

He died in 1851.
Their children were:-

Clementina Matilda Ann born 1818. She married

[in 1836. Ed.]

the Reverend John Routledge, Vicar of Cransley, Northamptonshire.
Harriet Clarissa born in 1819. She did not marry and died in 1887.
Edward William born in 1821. He was also a Liverpool merchant. He married in 1858 Lucy Emma Wartnaby of that City. He died in 1904.
Their children were:-

Edward William born in 1860. He married in 1885 Lucy McAlpine and died in 1906.

[For their children and descendants see

Additional Chapter XV.

Ed.]

Charles Royston born in 1861 at Birkenhead.

[For Charles Royston and his descendants see

Additional Chapter XVI.

Ed.]

Lucy Emma born in 1863. She did not marry.
Florence Easton born in 1864. She did not marry.
Henry Webster born in 1865. He married in 1893 Kate Augusta Perry. They had one daughter Irene Wartnaby who was born in 1896 and married in 1921 George Graham Earl.
George Ernest born in 1866. He did not marry and died in 1944.
Annie Clementina born in 1867. She married in 1893 John Chesshyre Blythe.

Charles Easton born in 1824 and died unmarried in 1853.
Royston Frederick born in 1828. He was also a Liverpool merchant in partnership with his brother Edward William. He married in 1857 Emily Hitchcock Easton and died in 1909.
Their children were:-


Charlotte Elizabeth born in 1858 and died unmarried in 1954.
Emily Easton born in 1859. She married in 1881 Dr. Robert Ramsay of Baltimore, U.S.A.
Edward Easton born in 1861 and died in infancy.
Royston Frederick born in 1866 and died in infancy.

Mary Ann Elizabeth, born in 1831, died in 1904.

Harriet born and died in 1794.
Charles born at Loughborough November 8, 1795, the youngest son of John and Ann Boultbee (née Caulton). He became a surgeon at Whittlesea

[Whittlesey, near Peterborough. Ed.]

where he died in 1854. He married first Sarah Hilton, a West Indian, secondly Miss Mary Ann Holdich of Maidwell Hall, Northamptonshire, who died in 1879 without children.
His children by his first wife were:-


Sarah Ann Hilton died young according to TPB.
Charles Hilton. He married in 1846 Hannah Baker of Acle, Norfolk. He died in the West Indies of Yellow Fever, having spent a large fortune derived from his mother.
Their children were:-


Anne Maria born in 1848 and died unmarried.
Harriet Elizabeth born in 1849 and died unmarried.
Charles Edward born in 1850. He married in 1875 at Norwich, Mary Anne Louisa Boston. In the 1881 Census he is described as a chemist and druggist.
Their children were:-

[TPB only knew about the daughters. Ed.]




Annie Louisa born in 1877, she married in 1897.
Laura Ethel May born in 1878. In 1902 she married Walter Prior.
Charles Edward born in 1880.

Francis Braithwaite born in 1852, died in 1906.
Howard Baker born in 1853.
George Robert born in 1854.
Hannah Louisa born in 1855.

Charlotte born in 1798, married Edward Holland of Worlaby, Lincolnshire, and died in 1891.

TPB continues ...
Joseph the 3rd son of Thomas and Jane, born in 1758, served in the Marines for a few years during the American War of Independence. It is not known that his services extended beyond cruising in the North Sea which then needed watching against the privateers serving under Paul Jones, and other American adventurers. At the close of the war in 1783 Joseph Boultbee retired on half pay as Lieutenant and never returned to active service.
He married Sarah Elizabeth Lane at Mancetter, Warwickshire, September 23, 1785. They lived for some years in Oxfordshire, and settled at Bunny near Nottingham, in or about 1798, where he held a large farm under a long and valuable lease from his brother-in-law Sir Thomas Parkyns. Early in this century

[in fact 4th May, 1798. Ed.]

he became Captain Commandant of a troop of Volunteer Cavalry, which he raised when the alarm of an expected French invasion prevailed, when the country was so largely denuded of troops during the Peninsular War, and the town and county of Nottingham were terrorised by the Luddite and other rioters. Captain Boultbee's troop was mainly relied upon for the restoration of order, and preservation of property. The members of the Corps were chiefly the tenantry of Sir Thomas Parkyns living in the neighbouring villages. On one occasion of disturbance in Nottingham, the Magistrates' summons came during Captain Boultbee's absence. His wife immediately took measures for mustering the troop, so that when the Captain returned in all haste he had nothing to do but to don his uniform and march. The Nottingham mob seem to have had a wholesome terror of the Bunny sabres. During one of the riots they took refuge in St. Mary's Churchyard, Nottingham, which is considerably elevated from the street and accessible only by flights of steps on that side, which might seem impractical for cavalry. From this fortress they assailed the unfortunate troopers with stones inflicting some damage. Irritated by this disastrous attack the men were difficult to restrain. Captain Boultbee with a novel escalade spurred his charger up the steps followed by a favourite orderly named Gunn. Scarcely were their plumes seen rising upwards towards the Churchyard when the mob broke and ran, a regular stampede being the result of this courageous and unexpected onslaught.
Captain Boultbee kept his Corps together until the War closed in 1815. It did great public service but it resulted in considerable loss to his family.

[JB noted My father made repeated application to the Government for some recompense to the widow of the Captain, she being left in somewhat straitened circumstances, but the invariable answer was "no funds". Here is Thomas, (JB's father), in extracts from his diary for 1824 and the two following years when he was curate at Prescot near Liverpool, organising and presenting a memorial to the Government with the help of his brother-in-law, B.P.Rideing. This gentleman was the husband of Mary, née Pownall, a sister of Thomas' wife Eliza.

1824 -- This month I first carried into effect a purpose I had at various times thought of, that of presenting to one of H.M. Ministers the case of my late beloved Father, hoping thereby to benefit my dear Mother. My first step was to ask the opinion of Mr. Mortlock of London, thro

[ugh]

Mr. B.P. Rideing, and I then drew up a memorial pro forma. To this I now wait an answer: if it be the will of God I shall be thankful if

[it]

succeed.
28th -- Received a letter from my relative Mr. Rideing informing me that he had presented my memorial unto Lord Liverpool who directs me to address it to the Lords of His Majesty's Treasury thro' their Secretaries Rt. Honourable Charles Arbuthnot and Stephen Rumbold Lushington Esqre. I purpose attending to this as soon as I see my way more plain.
Oct. 1825 -- I used great efforts to procure the reimbursement of expenses paid by my late Father in November 1811 when he resided in Nott

[ingham]

shire when he was called upon by ye Magistrates to assist with his Troop of Yeomanry Cavalry in suppressing the insurrectionary spirit of the lower orders -- particularly the Stocking-weavers . He was out with his troop a fortnight and did much towards maintaining the peace. He expended £200 on this occasion and from an interview with the county magistrates assembled at Nott

[ingha]

m before he conducted his troop out he fully understood that they would see him reimbursed. Accordingly he applied to them. They then declared they could not legally pay his demand, but promised by a letter from their Clerk (it is in my possession) to consider by what means and to what extent it could be done. He made several applications afterwards in vain. After my dear Father's death my mother applied thro' ye Revd. Wm Beetham of Colstock, Notts, to the Clerk with no better success. In the course of the present year

[1825]

I became acquainted with the circumstances, and resolved if possible to obtain the repayment of the amount for my dear Mother her circumstances being very limited. I first drew up a pro forma me

[moria]

l, it was presented to Ld. Liverpool by and thro' my relative B.P. Rideing then resident in London. His Lordsh

[ip]

desired I would add

[re]

ss it to ye Lords of the Treasury signed by the magistrates of ye Co

[unt]

y. This I was enabled to today. I went into Notts, and had my interview with the Magistr[ates] at the quarter session. They expressed themselves in a manner most honourable to the late Capt. B. but for some reason best known to themselves three only signed the memorial, their Chairman however was the first to sign it. Mr. Padley and I. Smith Wright were the other two. I returned in four days to Prescot. I sent the mem

[oria]

l and not hearing so soon as I expected wrote to Lord Bexley supposing him to be in the Treas[ur]y. He however most kindly advised me that it might be some time before I heard, as it was probable that it would be referred to ye Secretary of State Mr. Peel

[afterwards Sir Robert Peel, statesman and Victorian Prime Minister. Ed.]

but thought the time since

[it]

was performed was much against the success of the mem

[oria]

l. I therefore wrote to Mr. Peel to explain why it had been delayed. To this day 16 Jany. 1826 I have heard no more of it.

It is pleasing to be able to record that this tale of battling against bureaucratic frustration, years afterwards finally led to just restitution, to another widow. We can do no better than to quote here notes made by Walter Richard Pownall Boultbee, great-great-grandson of Joseph of the Bunny Troop.

The modern sequel to the appeal is as follows -- My father, Walter Ernest, 2nd son of James

[JB Ed.]

was in the Civil Service as Private Secretary to the Commissioner of the Metropolitan Police (both at old and New Scotland Yards), a confidential and responsible position. When he died in 1897 there was for reasons unknown to me, but probably trivial, no pension for his widow, my Mother. However, after much trouble she was granted an ex gratia pension but on the condition that no further claim on behalf of the Bunny Troop could ever be entertained. She drew this pension for 29 years so I think the original and legitimate claim has been fairly met. I would like to add that I am firmly of the opinion that the then Commissioner, Sir Edward Bradford, and whom I can remember, had much to do with this kindly act.


[Walter Ernest's widow died in 1926, so the pension must have started fairly soon after her husband's death, and 76 years after the death of Joseph. Ed.]


JB notes ...
The uniform of the Bunny Troop in possession of the writer

[JB. Ed.]

was that of a Dragoon Regiment. A dark blue jacket with gold lace and buttons, and gold epaulets. A sort of Hussar cap rather low with crested plume, and buckskins with jack boots. The contrast with those days may well raise our thankfulness for greater security both at home and abroad.

[For further details of the history of the Bunny Troop see

Appendix 3

. Ed.]


TPB continues ...

After the peace of 1815 the general decline in the value of agricultural produce, and the exhaustion of the country after such unparalleled exertions disastrously affected the commercial interests and ruined many families. The commercial depression was felt by Captain Boultbee. He disposed of the remainder of his lease at Bunny, and after one or two removals retired to Plas Newydd, Anglesey, where he died April 12, 1821, aged 62, and he was buried in the Churchyard of Llanedwyn. His remains rest under an altar tomb of black slate

[which, JB wrote --

was in capital preservation when I visited it on July 17, 1863. I brought away a root of small ivy from it which is growing freely over the porch of the front door at Bidford Vicarage.

He added in pencil in his copy, probably much later --

destroyed by Evans' restorations.

Ed.]

The tomb has this short inscription:-

To the memory of Joseph Boultbee, Gent
Who died at Plasnewyd Farm
April 12, 1821
Aged 62.

Captain Boultbee is described as a man of powerful build, not attaining to the measure of his father or grandfather but, by any other standard, tall of stature being six feet in height. He was a handsome man, if we may judge from a pencilled portrait taken in his later years.

[We are not sure whether the likeness below is the portrait mentioned by TPB, but it is certainly Joseph. Ed.]

JOSEPH BOULTBEE (1758 - 1821)

CAPTAIN COMMANDANT

OF THE BUNNY TROOP


His bright cheerful manner and aspect together with a lively imagination made him a favourite in society, probably very much to the ultimate disadvantage of his family. He was a good horseman and was a member of the Quorn Hunt and Club Quorn Hunt and Club. There is a painting by John Boultbee in the possession of the Reverend James Boultbee [JB] Vicar of Wrangthorn, Leeds, of a favourite grey hunter of Captain Boultbee, well known in the Quorn Hunt in those days, and capable of tiring down two or three other horses in spite of his rider's weight. Another excellent horse, Sportsman, is named as having been driven with ease from Bridlington to Bunny, some 90 miles, in one day.

Click below for
Captain Joseph Boultbee (1758 - 1821)
(Written by the Editors)

TPB continues ...
Sarah Elizabeth survived Captain Boultbee for many years. She ended her days in the Vicarage of Salford Priors, Warwickshire, the residence of her third surviving son Thomas. She died in 1848 and was buried in the churchyard of the parish about the centre of the south side. There is a gravestone to her memory.

[JB noted that it was also to the memory of her youngest grandchild, Frederick George, and a faithful nurse, Ann Moore, and he also set down the complete inscription on the stone. Ed.]

Sacred to the memory of
Sarah Elizabeth Boultbee
who died at Salford Vicarage
7th Novr 1848 aged 84.
She was the widow of
Capt Joseph Boultbee R.M.
who died 11th April 1821
and was buried at Llanedwin Anglesea.
'Christ died for us that
whether we wake or sleep
we should live together with him.'
In memory of Frederick George
son of the Rev Thomas Boultbee
Vicar of this Parish
and Eliza his wife
who died 12 Dec 1831 aged 16 months.
Also Ann Moore who served in the family
14 years with singular fidelity,
departed this life 13 July 1832
aged 33 years.


She was small of stature to which may be due the fact that her descendants have not attained the height of their forefathers. A memorial window to her husband and herself has been placed in the chancel of Bidford Church.

[TPB gives the list of Joseph and Sarah Elizabeth's children here but it seemed more appropriate to transfer it to Section III of this Chapter. Ed.]


William Boultbee, the fourth son of Thomas and Jane, born in 1761, married Mary Barnett born in 1772, who had some property at Sutton Bonnigton near Loughborough. There they lived and their children were born. She died suddenly October 19, 1817, while engaged in praying with a class of young people connected with the Sunday School in that place after a lesson she had been giving. The closing act of her life is a witness to what that life had been.

[JB notes James Boultbee (i.e. himself) who held the Curacy of East Leake near Sutton Bonnington, occasionally took duty there and the piety of Mrs. W. Boultbee was often mentioned to him by some of the older inhabitants and even the younger had cognisance of it.

The memory of the just is blessed

. Ed.]


William Boultbee appears to have suffered with so many others from the general depression which followed the Peace of 1815. He moved to London for a time, and afterwards died July 1st, 1821. He was buried with his wife in a vault in the Churchyard of Sutton Bonnington with this inscription:-

To the memory of
William Boultbee Esqre
Born Jany 27 1761
Died July 1st 1821
"The Lord is good, his Mercy is Everlasting"

[TPB then set down a list of their children and notes about some of them adding that very few descendants now remain. His knowledge was augmented by JB in respect of the descendants of the son Henry for the next two generations and we can now add to it. We have combined all the information as follows. Ed.]


William and Mary's children were:-
Mary born 1793 and died unmarried in 1827, buried at Ruddington, Nottinghamshire Ruddington.
Jane born 1795 and died unmarried in 1876, buried at Bidford Bidford.
William Barnett born 1796 and died unmarried in 1820, buried at Lambeth (London) Lambeth (London).
Lucy born 1798 and died unmarried in 1822, buried at Ruddington.
Francis Barnett born 1799 and died unmarried in 1823, buried at Cambridge, England Cambridge. Francis entered St. John's College, Cambridge St. John's College, Cambridge and graduated in Mathematical honours in January, 1823. He was looking forward to Ordination for which he was eminently qualified by piety and ability, when he died from the rapid effects of inflammation arising from a cold taken when boating on the Cam. The family lost in him a young man of considerable promise.

[JB noted that Francis' brother Henry told him that Francis was a capital Flute player flute player and that he had his flute. Ed.]

Henry adopted the medical profession and practised as a surgeon in Sheffield. He married Miss Ballans, of Sheffield, and died in

[here TPB left a blank. Ed.]

leaving two sons and a daughter.

Dr. Henry Boultbee (1801 - 1849)
(Written by the Editors)
To TPB's rather bare bones above we can now add some flesh (readers will please excuse this medical sally on the editorial part). The beginning of Henry's medical career was apprenticeship in Nottingham. On June 24, 1824, he submitted a notice of intention to the Society of Apothecaries to qualify himself to practice as an apothecary, having provided a testimonial stating that he had been examined and accepted for country Practice, and he duly became a Licentiate of the Society. He had become an M.R.C.S. (Member of the Royal College of Surgeons) in the previous March of that year, being elected a Fellow on August 16, 1844. In Sheffield he was Surgeon to the Public Dispensary, later the Royal Hospital. He also had an interest of an unusual nature, being a member of the Sheffield Literary and Philosophical Society. In 1833, with two other medical men, the Council of the Society authorised them to make arrangements for keeping a Meteorological Journal. He was Honorary Secretary of the Society from 1838 to 1840 and again in 1843.
He married, in 1831, Mary Anne Ballans of Sheffield. For their children and descendants see Additional Chapter XI.

Elizabeth Catherine born 1803, married the Reverend John Herbert of Wadham College, Oxford in 1828. Their married life was chiefly spent at the Garth near Monmouth and at Goodrich House near Ross where she died. She lies in Goodrich Churchyard about the centre of the north side.

[We have omitted TPB's list of their children except to mention that their son, the Reverend George Herbert, became the husband of his cousin Maria Jane, daughter of Thomas Boultbee the Vicar of Bidford. Ed.]

Sarah born in 1806, died unmarried in 1864.
Robert the fifth son

[born in 1763 Ed.]

of Thomas and Jane Boultbee occupied Stordon Grange as a tenant for some years after the original lease had expired. He married Sarah Rawlings who was buried at Osgathorpe October 2, 1811. He did not long survive her. They had two children, Thomas born October 12, 1787 and was buried at Osgathorpe, unmarried, September 28, 1817, and Sarah

[and

Elizabeth

born 1797/1798, died 1816, aged 18. That Robert had a second daughter, unknown to TPB has emerged from recent research. Ed.]

Sarah married Alexander Taberer

[at Osgathorpe on February 6, 1817. Ed.]

. She was baptised August 15, 1791 and was buried in her grandfather's vault at Osgathorpe in 1826. Her husband, and daughter Emma Elizabeth, were buried in the same vault in 1845 and 1846. It follows that this line is extinct.

[Thus TPB regarding Robert and his children as known to him. JB added in pencil, rather crossly we feel, that Taberers had no right to be buried in the Boultbee family vault. This intrusion had evidently continued to rankle. See TPB's comment in

Chapter VI

. Ed.]

Editorial Note:

Robert has hitherto been rather a shadowy figure, TPB's details being pretty basic and in sharp contrast to the wealth of information he provides about the brothers and sisters. By the early 1780s the elder brothers had long left home -- Thomas and John were well embarked on their artistic careers, Joseph was an officer in the Royal Marines, and William, who had married well, was presumably occupied in managing his wife's property and possibly also engaged in some business activity. That left Robert, in 1783 let us say, only twenty years old and still at home. By that date his father Thomas was 59, probably in failing health (see note in Chapter VI ) and relying on Robert to help him with the farm. Two years later Thomas died when the longevity of his own father and grandfather might have been expected to be repeated. It is highly likely that in 1785 the Stordon lease did have a few more years to run. Who was therefore left, as tenant, to manage the farm and also to look after his mother and sisters, none of the latter then married, but Robert.
Upon the death of his father in 1785, Robert was the head of the family living at Stordon Grange, and possibly in the same year married Sarah Rawlings. Their first child was born October 12, 1787 according to TPB, and it is interesting to note that when the child was exactly one year old, the young parents took him to Sarah's Church to be christened. It was the Parish Church at Carlton by Market Bosworth, about 10 miles south of Stordon Grange.
We do not know on what grounds TPB based his statement that Robert died soon after his wife. It is possible that it is partly due to some loss of contact between Robert and the rest of the family -- his mother had died in 1789 -- despite his not moving eventually very far from Stordon Grange, and partly because it is likely that TPB had to curtail his researches after his appointment as Principal of St. John's Theological College in 1863. These factors could account for TPB having nothing further to add about Robert.
However, we do know now something of Robert's later life. Some years after TPB's death when JB was nobly continuing the History in his old age, and while he was still Vicar of Wrangthorn, his mind must have returned to his early days as a busy young curate, and his recollection of having heard about an old Mrs. Boultbee of Kegworth, which is about 7 miles north-east of Stordon. He followed this up and, to Editorial surprise, in so doing thereby emerged more information about Robert which indicated that not only had he survived until 1835 but that he had possibly remarried. Notes about what he found were added into his copy of the History as follows:
The first note said -- When I was curate at East Leake, Notts, in 1855 or so, and not possessing any particular interest in family lore, there was a Mrs. Boultbee, aged, at Kegworth near there - 4 miles - wonder whose wife she was. That note is not dated and some time may have elapsed before JB decided to investigate further. His next note says -- Jane B. evidently, see Kegworth Register Kegworth Register, no date given but she died aged 78 and Peter Lilly buried her. He was curate of K[egworth] when I was at Leake. Next come extracts from the Kegworth Church Register and notes, supplied to JB by the Rector, Joseph Clark, and dated April 25, 1890. These state that Robert Boultbee, of Kegworth, was buried on September 2, 1835, aged 73, buried by P. Lilly, Curate. The Rector's notes go on -- There is a tombstone to Robert which says he was of Stordon Grange Stordon Grange, or that his parents were, it might read either way, and JB adds -- Was Jane his second wife? We have now been able to establish that she was. He married Jane Dunwoode on March 20, 1817, by Licence, at Ashby-de-la-Zouch.

(Inspection of the tombstones in Kegworth Churchyard on our behalf by Richard Holbech Boultbee did not find one for Robert. However, it is possible that it is still there, but so weathered that the inscription can no longer be deciphered.) At this point readers must justifiably be asking themselves some questions. Why have the Editors expressed surprise at JB's discoveries about Robert a hundred years after he made them? Surely this important knowledge would have become generally known in the family as a matter of interest to them all, once it had come to light? We answer that it was not generally known at all. Even up to very recent times those members of the family most actively interested in continuing the History after JB, and conscientiously keeping up the records, had invariably accepted Robert's death date as 1811, inferred from TPB's statement. It was regularly included in trees of descent made by more than one member, they having no reason to query it. The Editors themselves had always followed that date and hence their astonishment at being faced with the true situation. For reasons which are now not possible to ascertain the additional information about Robert in the JB copy was not circulated in the family, but we are pleased that with this new edition of the History it can now be available to all.
We must now return to Robert's son Thomas, referred to by TPB only by his birth and death dates, burial at Osgathorpe and by the statement that he did not marry.
We have come to the conclusion that if TPB had not been able to find any record himself in his researches of marriages, or possible recollections or records of them in the family, that he assumed that none had taken place. There are several instances where he makes the apparently categorical statement that someone had not married, when, in fact, they are now known to have done so, and such was the case with this Thomas.
He did marry, and what is more he married twice. On April 29, 1817, described as a widower, he married Sophia Gamble at Willoughby Waterless, Leicestershire, and five months later he died, leaving in his Will everything to Sophia. So far we have not been able to find out anything about his first wife, though this is being pursued. There were apparently no children.



Much more is now known about Robert and his descendants see

Newsletter No. 1

and

Additional Chapter XVII
---
Chapter VII -- Section III -- The Children of Joseph and Sarah Elizabeth Boultbee
Home
Contents
Index
Top
©