Home
Contents
Index
Bottom
Chapter VII -- Section III -- The Children of Joseph and Sarah Elizabeth Boultbee
---
PART TWO -- JAMES BOULTBEE'S CONTINUATION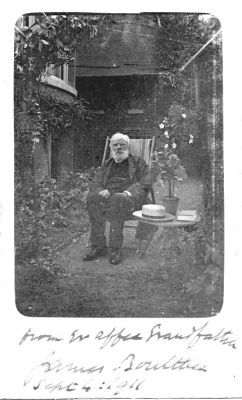 JB, AGED 84,
WITH BIBLE AND BEGONIAS
IN RETIREMENT AT READING
The following is added by James Boultbee -- [his words]. The children of Thomas Vicar of Bidford and Eliza [Pownall] his wife will now follow together with their grandchildren. The time has hardly arrived when any very full account of them should be given. [This remark perhaps reflects his sensitivity to some of them being alive at the time he wrote. Ed.]
Sarah Elizabeth the eldest child was born at Liverpool on 25th of March, 1817. She married the Reverend William Morton, who was the curate of Salford Priors and Bidford, in 1851. He then received the living of Penkhull near Stoke upon Trent,and afterwards that of Lynesack-cum-Softly in the County of Durham. She died May 11, 1880 and was buried at Lynesack. She was a godly person and in her unmarried life she was a most energetic visitor among the poor of Priors Salford, much beloved by them, and was most interested in Sunday School work and other modes of benefiting the poor.
Thomas Pownall was born August 7th, 1818 at Liverpool. His education was received from the Reverend Chambers of Willoughby, Warwickshire and he was then placed under the Reverend Charles Miller of Cheswardine, Shropshire and eventually he went to Uppingham where he was a hard worker and by sheer perseverance he won his way to a high position in the school. There are some, though not many, interesting circumstances of his career there narrated in Quiet Strength written after his death by the Reverend Gordon Calthrop, Vicar of St. Augustine's, Highbury, London.

[He conducted TPB's funeral service. Ed.]

He then entered St.John's College, Cambridge, having carried off an Exhibition from Uppingham. At St. John's his career was one of singular success. He soon stood at the head of the graduates of his own year and gained Prizes and Scholarships, defraying thereby the whole or almost the whole, of the expenses of his University career. In 1841 he took his B.A. degree coming out as 5th Wrangler, thus obtaining a position sufficiently honourable in itself yet not perhaps adequate to his real merit for in the examination for the Smith's Prize he was placed next to the 1st and 2nd Wrangler of his year. In the March following he was elected Fellow of his College.

[M.A.in 1844. Ed.]

In 1844 he was ordained by the Bishop of Ely. Before ordination he wrote: I pray to be preserved from the peculiar temptations of my situation I pray that I may ever bear in mind the awful responsibility of the Holy Office to which I aspire. May the Spirit sanctify my studies and if I may be wise to win Souls may I count all other wisdom but dross.
In 1846 he married Caroline Frances, daughter of the Reverend Robert Lawrance, Rector of Dorsington, County Gloucester.
His first curacy was East Grimstead, Wiltshire, then Beasley and Wolverton (County Warwick) of which he had sole charge in the absence of the Rector. He then took the curacy of Oldberrow and Morton Baggott near Henley-in-Arden; in these two latter curacies he received pupils in preparation for the Universities -- among them being Professor Liveing, Cambridge -- a son of the Reverend Baptist Noel -- and the somewhat celebrated and erratic character Lawrence Oliphant also the Reverend J.S. Moore who afterwards married his

[i.e. TPB's.Ed.]

sister Mary. He then took the curacy of the Parish Church at Cheltenham under the Reverend Francis Close, afterwards Dean of Carlisle. His ministrations there were most useful. He then became (1853) Theological Tutor and Chaplain of the Collegiate School in that town -- his influence with the youths under his charge was very marked.
His experience at this College was invaluable to him -- it was a preparation for that great work which he carried on at St. John's College, Highbury, for some twenty years,

[commencing 1863.Ed.]

the training of men for the Ministry -- his success in his work was acknowledged by all -- it had a solid reality and worth about it -- the Bishop of London marking his high appreciation of Dr.Boultbee's work gave him a prebendal stall in St.Paul's Cathedral.

[This was in 1883 TPB had taken the degree of LL.D. in 1872. Ed.]


Not long after, the cruel disorder from which he suffered -- gout -- took him from us on 30th January, 1884,

[at Bournemouth. Ed.]

and he was buried at Chesham Cemetery on 6th February,

[where his younger son Charles Eustace (1854 - 1946) was Vicar. Ed.]

. The funeral was a very large one, being attended by numbers of the students of the College one or two Bishops and several clergy, some of whom had been prepared by him for Holy Orders few who were present will forget the touching accompaniment of the scene the hush the sympathy teasings of the Doctor's favourite hymn... Let me be with Thee where thou art and then the long and solemn procession to the grave Blessed are the dead which die in the Lord.

[From the Dictionary of National Biography we learn that St. John's, the London College of Divinity, was at first located in a private house at Kilburn where TPB started his work with a single student. Two years afterwards it was moved to St. John's Hall, Highbury, and the numbers of divinity students rose to fifty or sixty. In 1884 the number in residence was sixty eight. Besides a few sermons and occasional papers the Dictionary of National Biography records that TPB published the following:-
1871
A commentary on the 39 Articles, forming an introduction to the theology of the Church of England.
1872
The alleged moral difficulties of the Old Testament, a lecture delivered in connection with the Christian Evidence Society.
1873
The annual address of the Victoria Institute, or Philosophical Society of Great Britain.
1879
A History of the Church of England Pre-Reformation Period.
His wife, Caroline Frances, was born in 1824 and died in 1906. Ed.]

The following table gives the names of his children:-

[This we have transferred with much more information, down to modern times, to

Additional Chapter VIII

. Ed.]

Joseph born in 1819, died 1820, buried at Liverpool.
Eliza born July 15, 1821, unmarried. [JB noted January 20, 1894 that Eliza was living with her sister Maria Jane. We have met Eliza already on the occasion of her father's retirement from Bidford (see Thomas Of Bidford). She died in 1906. Ed.]
Mary Burn comes next, living at Crofton Rectory near Wakefield. She married the Reverend J

[osiah]

S

[amuel]

Moore.

[Mary Burn was born March 6, 1823 and married in 1848. Ed.]

Maria Jane born 11th May, 1825, married 3rd of April, 1867 the Reverend George Herbert her cousin.

[She died in 1901 and her husband in 1899. Ed.]

James was born May 31, 1827. He like his brother

[TPB. Ed.]

was educated at Cheswardine, Salop, by the Reverend Charles Miller. Afterwards at Uppingham and then at King William's College, Castletown, Isle of Man -- his father's intention was to send him to Cambridge, but he being fettered financially at the time and an opening arising James was placed as an articled pupil under Mr. Alfred Jee, Civil Engineer - he stayed with him four years and as a pupil bore his small share in the construction of the Sheffield and Manchester Railway -- the Huddersfield and Manchester Railway -- and (until transferred to the Lancashire and Yorkshire Railway) the Huddersfield and Sheffield line to Penistone. An Act had been obtained for what was known as the Wharfdale Railway from Skipton to Arthington and JB was concerned in the staking it out and taking the permanent levels -- unfortunately money was not forthcoming and the line was abandoned, its course was very much the same as the line now constructed between Skipton and Arthington.
In 1850 he expressed a wish to take orders in the Church, and his father sent him to the Theological Department of Kings College, London, where he stayed two years. His first curacy was Trinity Church, Nottingham; he remained there about two years and then took the curacy of East Leake near Loughborough where he remained five years in quasi sole charge under the Reverend John Bateman, Rector of East and West Leake. He then removed to the curacy of the Parish Church of Kingswinford at Wordsley, Staffordshire. The Rector, the Reverend Charles Girdlestone, was non-resident and JB was senior curate of this large parish. He remained there seven years until the Bishop of Ripon presented him to the living of Wrangthorn near Leeds which he now -- January 20, 1894 -- holds. This was an entirely new parish and there was no church or parochial machinery. He commenced by erecting an iron church and then ere long erected the permanent church of St. Augustine's - bought house for a Vicarage, bought school buildings and carries on fairly successfully the work of a Minister of the Gospel.

[James -- a strong Evangelical -- as was TPB -- was appointed to Wrangthorn on 7th December,1866. In a memorandum dated 6th December, 1869, the same day that the foundation stone of the new permanent church was laid by the Vicar of Leeds, he wrote -- In this church may the pure word of God ever be preached; salvation through the merits of our Lord Jesus Christ ever be proclaimed -- may this stone cry out of the wall if ever admixture of popish error, ritualistic nonsense or rationalistic uncertainties find place within these walls. May many a sinner be turned from the error of his ways, and he who writes (unworthy though he be) and may all his flock be graciously accepted, for the above merits of Jesus Christ on the day of his appearing, so that he who sows, and they who reap may rejoice together.
The church was designed by James Frazer, a Leeds architect and could hold slightly over 600. JB was Vicar there for 42 years, only retiring in 1908. Ed.]

In 1850 he married Marianne Simmons,

[born in 1830. Ed.]

second daughter of Mr. William Simmons of Rosa Villas, Walham Green, London she died in child bed September 25, 1870 and was buried at Crofton.

[Marianne's name in the family was

Polly

. Ed.]

He was left with a number of young children and married Fanny Robson of Lynesack, Durham on February 6, 1873. She died August 5, 1873, having ruptured her spleen.

[This was caused by a fall in a domestic accident. JB must have met Fanny while he was on a visit to his eldest sister whose husband was the Vicar of Lynesack.Ed.]


Twenty years later JB writes:
She was a good and loving wife and proved the truth of an expression she made to me. "I

will

be a mother to your children." Stranded and almost wrecked I was advised to marry again which I did, to Mary Rucker Sankey, daughter of the Reverend Richard Sankey, Rector of Witney, Oxon.

[in 1874. Ed.]

The vessel floated again and repaired it has now sailed for twenty years in her company and under her kindly and motherly care the children have grown up and have sons and daughters of their own -- and she and I are growing old together, bearing life's trials and trying to view them in a proper light -- sharing what happiness God in his mercy sees fit to give us -- thankful for all his dealings with us as wise -- and both hoping to attain eternal life through Jesus Christ our Lord.


[JB and Mary retired to Reading to be near his son Hugh Edmund, Vicar of Greyfriars. In the family, JB was known as The Dad and Mary as The Missus. JB happily cultivated begonias on which, family tradition says, he was something of an expert. He was buried at Reading as was Mary in 1919. After JB's death, on December 15, 1914, she went to live with their daughter Agnes Clara and son-in-law the Reverend James Wallace at St. Andrew's Vicarage, Thornhill Square, Barnsbury, North London.




Full details of JB's children, grandchildren and descendants to the present time will be found in

Additional Chapter IX.

Ed.]

Lucy Frances youngest daughter born September 29, 1829 at Harborough Magna, Warwickshire. Married December 14, 1854 the Reverend John Edward Alexander Inge, now Rector of Gayton-le-Marsh, Lincolnshire (large family).

[She died in 1917. Ed.]

Frederick George born 1830, died 1831, buried at Salford Priors.
---
Chapter VIII -- The Children of Thomas Pownall Boultbee and Caroline Frances Lawrence and Their descendants
Home
Contents
Index
Top
©